Slow eBay sales can happen to any seller at any time. Let's go through some reasons why this can happen and what we can do to improve our sales in the future. If you're in this situation, it's easy to feel helpless because you depend on a platform, which is out of your hands. However, here's some good news: you can do a lot just by understanding what is causing the downturn.
Let's go through some causes for slow sales first, and then we can draw a plan of action. After all, that's the important part here - what to do about it all.
Why are my eBay sales down?
The two main reasons for slow eBay sales are:

eBay has slow summer months
your items are no longer in good demand

eBay is very interested in selling your items because they earn at least 10% of your sales. So, they are the last ones to blame for poor sales. Instead, looks for things you can change. The main thing in your control is the items you sell, so with proper research, you will be in a much better position for improved sales in the future.
eBay seasonality
A few years ago, I did an analysis of all the eBay sales data I could get my hands on. The result was pretty startling, I saw a 25% drop in the number of sold auctions during the summer months for top-rated sellers. And this is something only the long-time eBayers know and prepare for. Now, it's easy to say - 25% is nothing, my sales dropped 80%... but keep in mind, this 25% decline is there for the big sellers whose whole life might depend on these sales. The regular seller, who isn't so committed and doesn't mind missing some sales is probably much worse off. Below is a screenshot for the interest in this topic over time: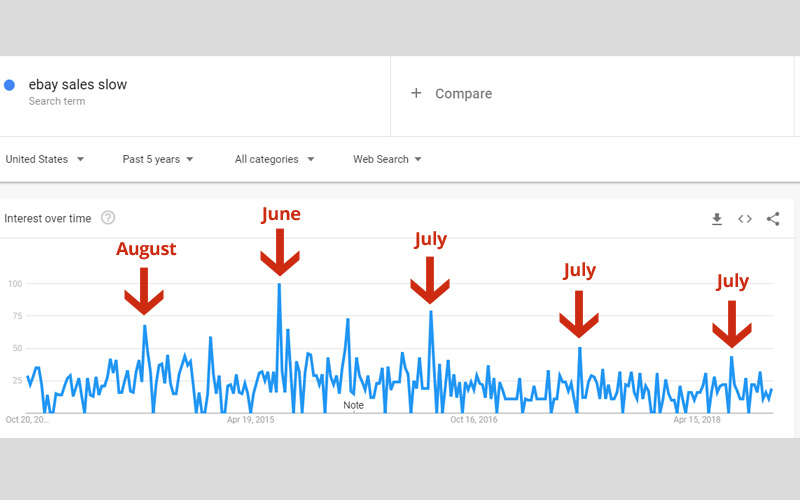 It's good when my research can be confirmed independently like this. We can now safely say this is just a part of life, and there's not much we can do about losing sales in the summer - except, we should prepare for this in advance (more on this later)!
Now, just to complete our summer theory, what about the opposite? Are people less interested in eBay sales downturns in other times of the year? The picture below shows that there are some noticeable patterns too, but not so pronounced. It's important to remember that people are researching this topic less often, could mean that sales are either good or great, but at least they're not bad.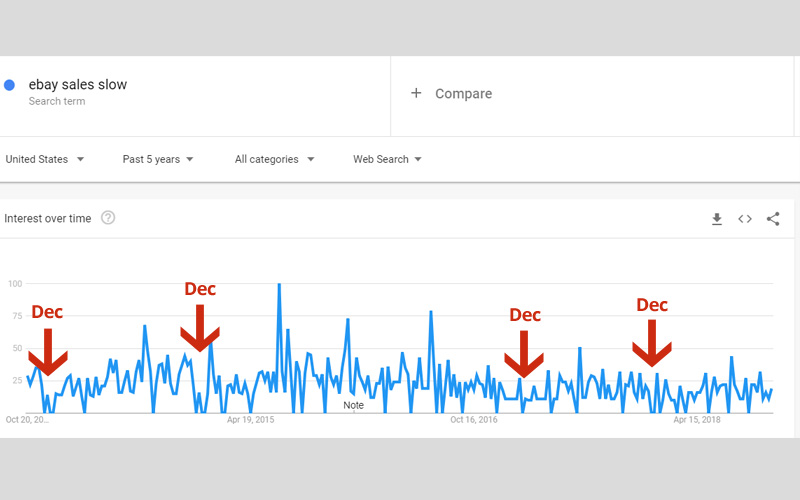 Please notice how every December, no one seems to care about bad sales. I skipped the middle part of the chart here, because there's a note about data collection being changed, and so it's an irregular data set. But otherwise, during Christmas and New Year sales are pretty darn good for all eBay sellers. At least they are as good as they can be.
My hope is, this is convincing evidence of seasonality on the eBay market, and in case you're reading this in the summer, you now know the cause.
Some products that counter the summer downturn
Now that we know the problem, what can we do about it? My advice is: keep listing and do this the smart way. Of course, it's not the best idea to try and sell a set of skis in the summer, and it's important to do some research about what people want. This will do two things for you: you'll be on top of your game, and you will be doing more business. It's a hustle for sure, but then again what job isn't?
Below are a couple of obvious examples for seasonal products that you can try and get into selling, to counter the down season: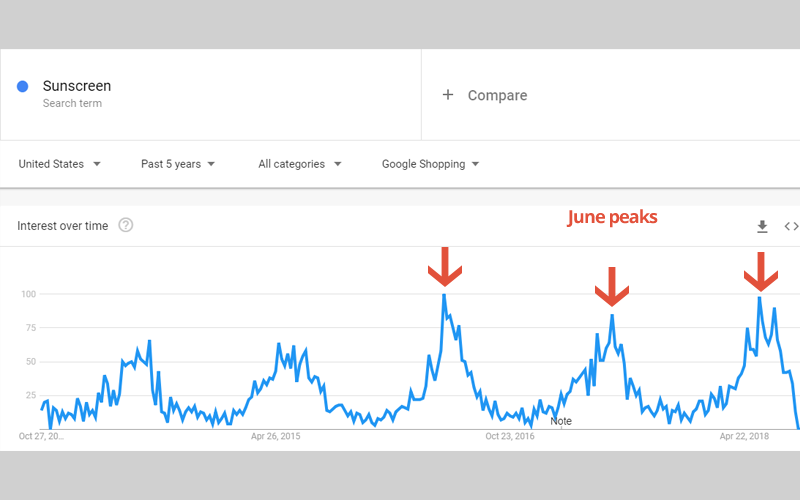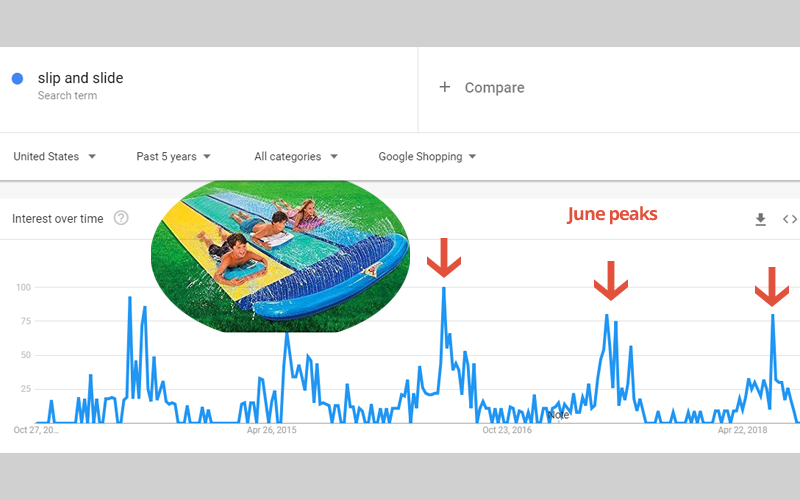 I already know what you're thinking - everyone knows these items, give me something better! Here's one I bet you didn't know sells well in the summer, below! This is a craft item, used by lots of people, and even though making mosaics can be done at home at any month, the interest still peaks in the summer.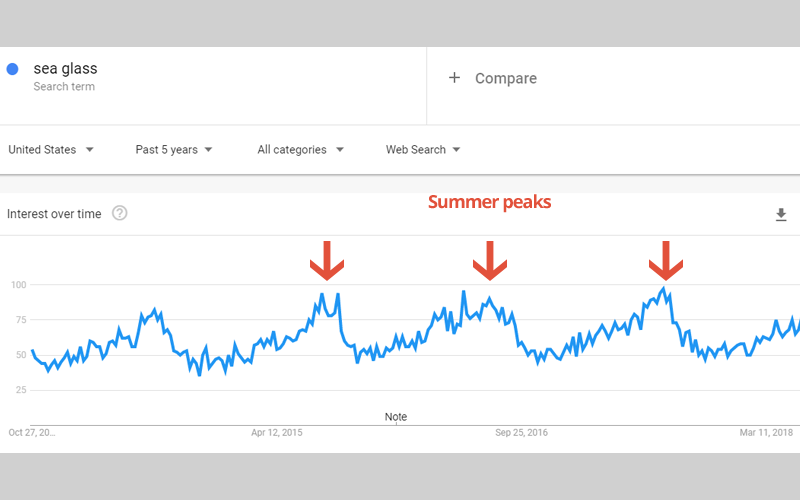 I sell sea glass on eBay as a side hustle ;)
Anyway, I make more of these listings in the summer and devote less time to my other listings. Not only do I sell at better prices and more of them in the summer, but I also slightly even out the overall loss from the down months. And that's the lesson here: be prepared for the summer in advance and have an action plan. Doing research helps.
It's a bit like preparing for Christmas sales. And you'll be glad you did this because next summer you'll be doing better.
Your items are getting more competitive or less demand
In the video at the top of this page, I discuss another reason for sales going down, and it's not something you'll read about anywhere else. Often, the market (or the buyers), just don't want your product anymore or the market gets too saturated with competition. The case study I had was the Fidget Snippet, and here's the price chart that happened right in the middle of the downturn: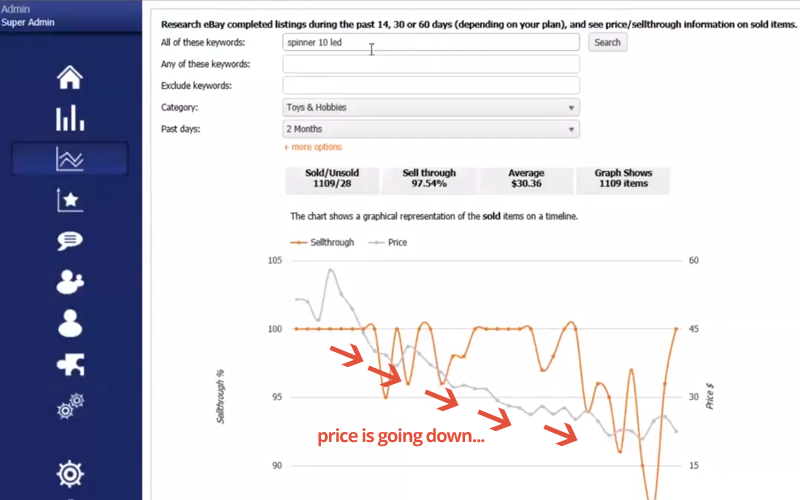 This is a screenshot of the MarkSight research application, and the 2-month time frame is available to Gold subscribers. The item I was researching was a set of 10 Fidget Spinners with LEDs. Even though the sell-through was high at 97%, notice how the price went from over $45 per 10 spinners, down to $22 per 10 spinners. That's a 50% drop in price in 2 months! Imagine if you made an investment and bought a few thousand of these back then?
Add I hope you remember that back in 2017, this thing was so hot and maybe it even seemed easy to make money. One of the problems with markets is you never know when a hot item will fade, but you can at least see some warning signs by researching price trends and sell-through trends. If either one is falling, then you know to stay out.
But what if the items you're selling are not an investment, and it's something you already have? Please use our free tools to get some insight. You may be facing a temporary downturn in demand. The key here is to find out the cause, and then figure something out.
Look for new items to sell
The simplest thing you can do when your current items are out of style is looking for new items that are in style. To help you do this, we've developed a download list of over 10,000 items that are selling very well on eBay right now. Fidget spinners used to be on this list, but not any more of course. There are just so many items on the list, you can spend days researching it all looking for new ideas.
The list is helpful not only for eBay sellers but all sellers online (Amazon, Shopify, etc.). That's because our algorithms go through millions of auction listings to discover these items, and this is a large enough data set to be valid in general.
A conspiracy that seems to boost sales
There's one "conspiracy theory" I've heard and it's something that worked for me a few times. eBay will never acknowledge this, by the way. What you do is, go onto your seller page, and view your item listings. Go onto some of them and maybe change a few words in the description. The theory is, this will refresh your listings, and eBay's algorithms will have to handle your listing as if it were changed. eBay just has to always provide the newest data, it has to do this kind of refreshing. Another thing is, it will make the system think you're more active, and just in case there's a parameter to order listing results to buyers based on seller activity, then you'll come out on top.
You're probably thinking, this can't be true... but I'm sure now that you know about this, just try it and maybe for you it will make a difference. For me, a couple of times it did, and I got sales on the same day! And that's after I had no sales for a few days straight.
Conclusion
I hope this answered your question, and also provided some ideas on what to do about it. In case you have some other ideas or suggestions, please feel free to use the comment section below and share your thoughts with the community. I am especially curious if you have a story to tell about turning around a bad sales streak., and how you did it. And I think the bottom line will always be, you have to hustle and move with the times.