eBay feedback should get more attention than it does. This is your last opportunity to stand out, either as a seller or buyer, and this chance should not go to waste. Let's look at some examples of humorous feedback or notes, as well as other examples of great feedback.
All the pictures shown below are real from user feedback accounts or various postings online. Enjoy them, and I hope this puts you in a positive mood today! Remember to share your favorite feedback notes below in the comments.
Heartwarming messages

How can you not appreciate this as a seller? After all, if we set aside all our use of technology and shipping and listings, it can be easy to forget that we're always dealing with other people. The lesson here: don't forget there's a real person on the other side, and they appreciate your work.
Great unboxing experience with a note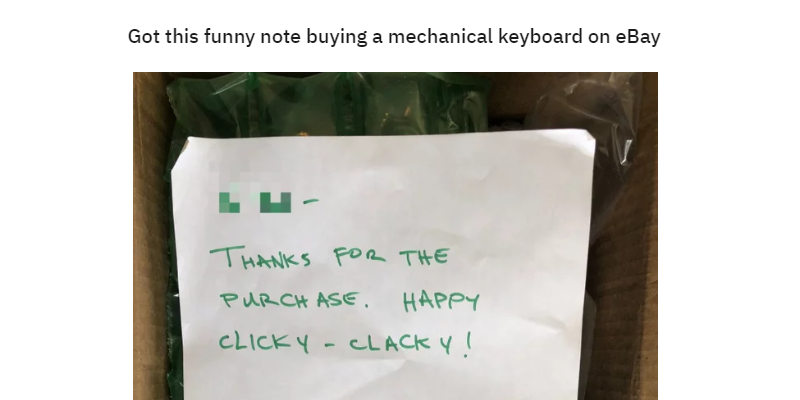 Who says you're limited to just electronic messages? This seller took the time to give the buyer probably the most unusual unboxing experience ever. I should do the same, and write more clever messages than just "Thanks, hope you enjoy the item.".
Mastering the art of a Thank You can be hard but will be rewarding. Notes like this will surely increase your feedback rate.
Learn how to Make Money on eBay with tricks like this.
This is often an overlooked area of basic customer service. Put yourself in the shoes of your customer, and imagine what would make their day just 1% better, and then do that. Maybe it's a funny handwritten note, or maybe a little gift. Whatever you choose to do, you'll put yourself ahead of your competition by acting instead of being plain.
Personal messages that are too good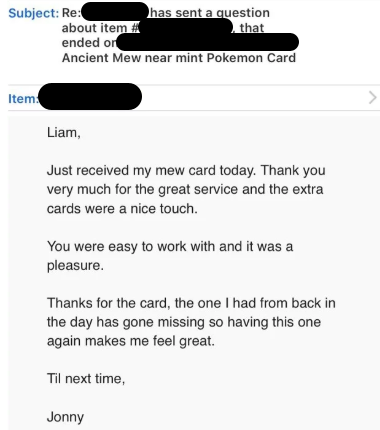 Above is an example of some of the nicest eBay messages that you as a seller can get. Often, the buyer is just too happy to have even found whatever you're selling. Connect with your buyer, and ask them if everything is as expected. Respond to kind messages, and make the experience more memorable. Like in the example above, I bet this person will look to come back for repeat business.
Funniest eBay feedback ever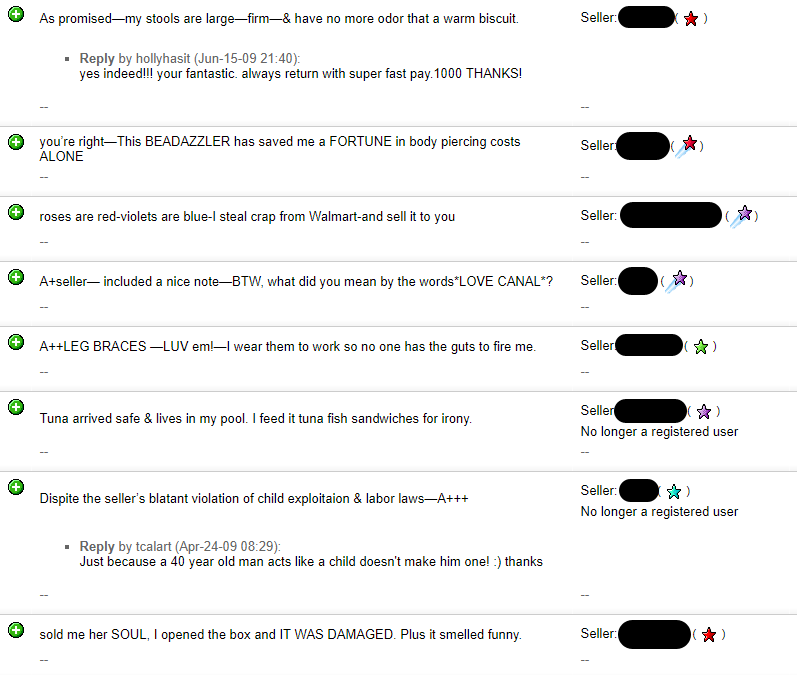 eBay feedback is limited to just 80 characters, and yet people can figure out the funniest things to post. Now I know what to do in my spare time: come up with witty comments I'll be using in my future sales and purchases.
Ridiculous/absurd eBay feedback


With totally ridiculous feedback messages, just remember, eBay has a feedback policy that specifically prohibits unrelated content. But it can be funny too, and I'm sharing the above messages just for kicks. And it's pretty entertaining too.
Final thoughts
The art of eBay feedback can be a tough one but is definitely worth the effort - if only the result is to humor ourselves. Some of the sellers pictured above got shared on social media and became viral just for their messages alone! If that's not a great marketing trick, I don't know what is.
Please remember to always leave feedback that's at least a little relevant though, and try to give your buyers some positive emotions. Positive experiences lead to a higher feedback rate, which leads to higher sales and the process builds upon itself.
In case you recently received some great eBay feedback, please share it with others below in the comments section.