A major topic for all online sellers is: what's easiest to sell on eBay? We created the MarkSight project to answer this by closely studying eBay sales and gathering as much data as possible. We crunched the numbers and came up with charts and tables to prove our case. Depending on your goals, there are different approaches to figuring out the top items for your business. For a quick reference, we summarized all data into the following list for you:
What are the easiest things to sell on eBay?
We answer this by studying millions of auctions on eBay to come up with the following things that are the easiest to sell on eBay:

Cell Phones & Accessories
Coins & Paper Money
Tickets & Experiences
Cameras & Photo
Computers/Tablets & Networking
Musical Instruments & Gear
Gift Cards & Coupons
Business & Industrial
Sporting Goods
Video Games & Consoles

These items are getting the best of all statistics where they tend to have high prices, high demand, and high sell-through rates.
The data source we'll be looking at consists of millions of completed auctions from all corners of eBay. We will disregard all listings priced under $10 because there are too many of them, and they are meaningless in many ways. For example, it's probably near impossible to make any profit from such products. Also, we want to have a high-resolution look at the profitable items, which will be distorted by cheap items skewing the results.
We consider the "easiness" of selling a product to come from three basic principles: how much are buyers fighting (or bidding) to get your item, the final sales price (higher is better), and the sell-through rates of all kinds of different items that are currently selling on eBay.
Top selling items on eBay
Let's start by first creating a chart of how many items are sold in which category, and compare this across all eBay listing categories. The result shows all the top selling items on eBay and all the worst ones too. This is how eBay makes its earnings, and as sellers, we should know about these things. As a general rule of thumb, the bigger the market for your item, the easier it will be for you to sell it.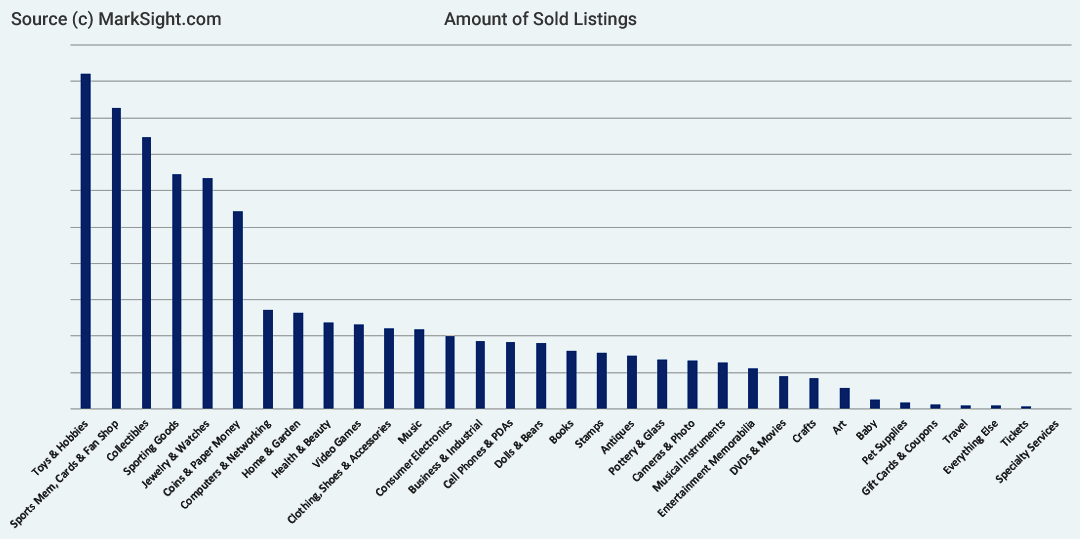 eBay Amount of Sold Items per Listing Category (comparative)
I don't know about you, but here I was kind of surprised. I always knew that Collectibles were up there, but Toys and Sports Cards too? Don't get me wrong, these are great items, but it's a bit of a shock that they've grown bigger than the very first eBay Collectibles business!
In order of total listings sold, the following are the top selling items on eBay:
Toys & Hobbies
Sports Memorabilia, Cards & Fan Shop
Collectibles
Sporting Goods
Jewelry & Watches
Coins & Paper Money
Computers/Tablets & Networking
Home & Garden
Health & Beauty
Video Games
Notice also that once we go past items that people collect, the curve halves and flatlines. This is not a good sign for eBay, and they should do something to grow the lagging items. If someone from eBay is reading this, pass this on to your top management as an opportunity for growth!
The graph also backs up the old synergy between eBay and collectors. It seems to still be true today, and we have the data to show it.
Relevant eBay sales data for all items
We built a table that covers several interesting stats and broke it down by eBay category. You can use it for your own purposes as well, and we give it away for free. If you do use this table, please leave a reference back to where you found it.
| eBay Category | Sell Through | Average Bids Per Sold Auction | Average Sales Price |
| --- | --- | --- | --- |
| Antiques | 15.32% | 6.63 | $115.18 |
| Art | 7.41% | 5.85 | $131.46 |
| Baby | 18.55% | 5.76 | $60.48 |
| Books | 11.99% | 4.17 | $41.96 |
| Business & Industrial | 16.99% | 5.75 | $382.45 |
| Cameras & Photo | 30.84% | 9.78 | $249.32 |
| Cell Phones & Accessories | 47.02% | 14.14 | $177.07 |
| Clothing, Shoes & Accessories | 11.19% | 4.26 | $53.36 |
| Coins & Paper Money | 40.77% | 10.84 | $263.42 |
| Collectibles | 18.12% | 6.21 | $58.87 |
| Computers & Networking | 33.82% | 9.46 | $167.09 |
| Consumer Electronics | 28.65% | 8.44 | $112.75 |
| Crafts | 22.43% | 5.71 | $45.77 |
| Dolls & Bears | 20.36% | 6.09 | $54.56 |
| DVDs & Movies | 25.96% | 6.72 | $32.94 |
| Entertainment Memorabilia | 14.99% | 5.36 | $59.23 |
| Everything Else | 17.75% | 5.87 | $80.37 |
| Gift Cards & Coupons | 61.96% | 7.87 | $85.27 |
| Health & Beauty | 23.36% | 5.75 | $53.12 |
| Home & Garden | 16.52% | 6.50 | $75.92 |
| Jewelry & Watches | 17.47% | 9.16 | $132.69 |
| Music | 30.17% | 6.33 | $43.12 |
| Musical Instruments | 29.27% | 7.14 | $218.06 |
| Pet Supplies | 23.57% | 6.67 | $59.51 |
| Pottery & Glass | 10.14% | 4.38 | $55.80 |
| Specialty Services | 6.37% | 6.17 | $225.11 |
| Sporting Goods | 28.16% | 7.99 | $104.28 |
| Sports Mem, Cards & Fan Shop | 29.66% | 9.45 | $80.98 |
| Stamps | 32.09% | 9.52 | $45.46 |
| Tickets | 20.98% | 6.94 | $568.52 |
| Toys & Hobbies | 26.83% | 6.95 | $59.48 |
| Travel | 20.22% | 6.74 | $142.92 |
| Video Games | 39.39% | 9.39 | $62.81 |
eBay Full Sales Analytics Data
As you read the above information, please keep in mind that we're only talking about averages and we're seeing the big picture developing on the eBay platform. It could very well be that for instance, you're selling books and have a sell-through of 50% and prices above $100. But there are many eBay sellers, and you're not the only one. On average, I think, the figures are mostly depressing, but let's not get discouraged yet.
Chances are, what separates success from failure is doing your eBay analytics and staying on top of things. Hustling and looking for new ways to source merchandise also helps. Besides this, eBay does create new features every so often to help you make the sale, such as their new function to send offers to watchers.
Which eBay categories have the highest sell-through rates?
Most eBay coaches will place a heavy emphasis on sell-through rates, and for good reason. Just as a reminder, sell-through is the number of listings that are sold versus not being sold. If you're an eBay seller, you also have your sell-through for your account, but let's not get into that here. What we're analyzing here is the general trend to find out which items have which sell-through organically.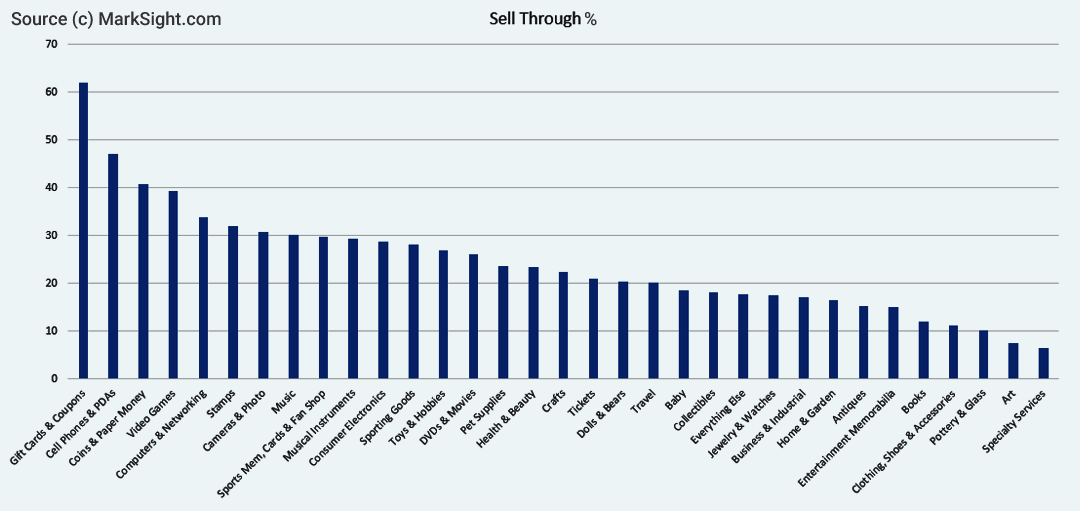 eBay sell-through chart for different items
Are you surprised to see that gift cards have a sell-through above 60%? Initially, we were too, until we noticed that gift cards are the closest things to cash of all the types of items. And on eBay, they tend to sell for less than face value. Think about it, people are selling basically an equivalent of money, for less than it's worth. Hence, of course, gift cards sell quickly, but probably at a loss to the sellers.
The next in line is smartphones. We have a separate guide on reselling phones on eBay if you're curious, it's a profitable business to start, and many people are already doing it.
The following is a list of the top ten items on eBay with the highest sell-through:
Gift Cards & Coupons (62%)
Cell Phones & Accessories (47%)
Coins & Paper Money (41%)
Video Games (39%)
Computers/Tablets & Networking (34%)
Stamps (32%)
Cameras & Photo (31%)
Music (30%)
Sports Memorabilia, Cards & Fan Shop (30%)
Musical Instruments (29%)
One thing to note here is if your listing has a low sell-through rate, it's not a disaster. A simple trick to make more sales is to list more items, and you should do just fine. For example, booksellers tend to have hundreds of items listed just to sell a handful each day. So, in a way, this can be used to find out how much stock you should maintain in order to make a certain profit each month.
How much eBay stock to maintain, to earn $1000 per month?
Let's consider that you want to sell books online, and you want to earn a $1000 profit every month. How many books do you have to list to meet this goal? On average, books have a sell-through of 12%, and the average book sells for $42. Let's also assume your average cost per book is $20 at garage sales. The formula to figure out how many books you should keep in stock is:
4 weeks * (0.12 * X books) * ($42 * 0.85 - $20) = $1000
The 0.85 above is the amount of money you get on hand after paying all your eBay and PayPal fees. Eventually, X works out to 133 books that you must have listed, and I would say with knowing the books business that is the minimum you should have because not all your book flipping will be perfect. To account for unprofitable sales and poor purchasing choices on your part, multiply that by 2, and you have a rough estimate of 270 books in stock to earn a realistic $1000 per month reselling books. Is this doable? Yes, it is!
Use the formula below for your own items or niches, and you will have a pretty good estimate of how much eBay stock you must maintain to meet your monthly income goal.
4 weeks * (Sell-Through * X items) * (Average Sales Price * 0.85 - Average Item Cost) = Your Monthly Income Goal
eBay average sales prices for different items
By far, tickets and business/industrial items fetch the highest prices on eBay. The chart below shows all the figures in descending order. Coins/Paper Money comes in at a distant 3rd here. Please keep in mind that only sold listings are considered here! Of course, there are many listings out there that can easily beat the average, but we're only interested in actual sales, not what sellers wish for.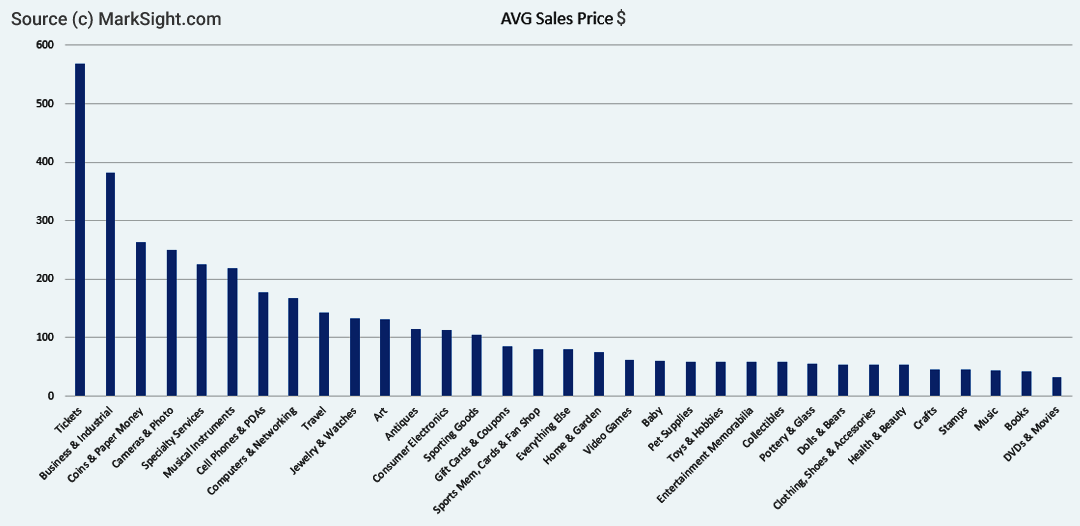 Different items on eBay and their Average Sales Prices
From most expensive to less expensive, the following are eBay item average sales prices:
Tickets ($568)
Business & Industrial ($382)
Coins & Paper Money ($263)
Cameras & Photo ($249)
Specialty Services ($225)
Musical Instruments ($218)
Cell Phones & Accessories ($177)
Computers/Tablets & Networking ($167)
Travel ($143)
Jewelry & Watches ($133)
It was a bit surprising to see tickets at the top of the list, and just to double check this we went ahead and looked at eBay sold tickets directly. There are many sold listings for season tickets, for thousands of dollars, and this alone explains the anomaly. Specialty services are another curious category, and we recommend for graphic designers and web developers to check this one more because it seems to be one of the least used listing categories, and yet it's in the top ten for sold prices.
Why research eBay sales prices? Well, the point here is, normally the higher the price of an item, the more opportunity you have to make a profit. And that's the whole point of doing business, right?! Imagine the nightmare that every sale you have is just $10... even if your cost is just $1, after fees you'll just earn $7.50 from such a sale. That's why we like the business idea of reselling phones. With smartphones, the average price is $177, and this gives you a lot of chances to make a solid earning!
eBay items with the highest bids
eBay bidding activity is often an overlooked piece of information, but we at MarkSight like it a lot! It's the only indicator that tells us exactly how badly buyers want or need something. And we can use this to gauge real market demand. In the chart below, we'll again only consider sold listings, and we will not count unsold items toward the results.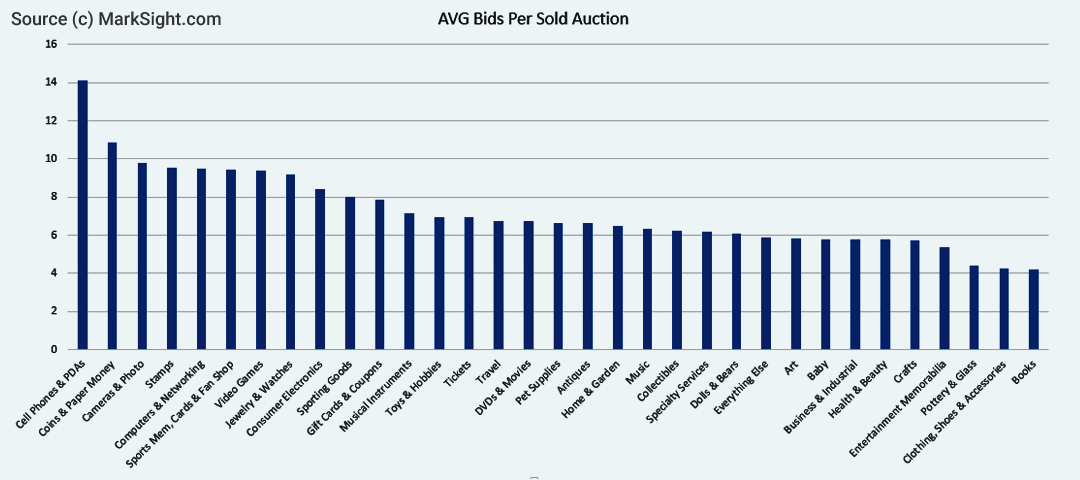 Average amount of bids per sold auction on eBay
As expected, phones are now a basic human need, and they are beating everything else. The next in line are stamps, coins and different types of electronics. Collectors are notorious for fighting over rare items, and the chart above proves this is not going away any time soon.
In descending order, the following are the top ten items that buyers bid most on the eBay platform:
Cell Phones & Accessories (14.1 bids)
Coins & Paper Money (10.8 bids)
Cameras & Photo (9.8 bids)
Stamps (9.5 bids)
Computers & Networking (9.5 bids)
Sports Mem, Cards & Fan Shop (9.5 bids)
Video Games (9.4 bids)
Jewelry & Watches (9.2 bids)
Consumer Electronics (8.4 bids)
Sporting Goods (8 bids)
Easiest things to sell on eBay and make a profit
At last, the following chart shows all our data points combined. We created a short formula to tell us not only what's easiest to sell, but also what products easiest to make a profit from. Just a quick note about profit, we assume that higher prices will yield a higher nominal profit.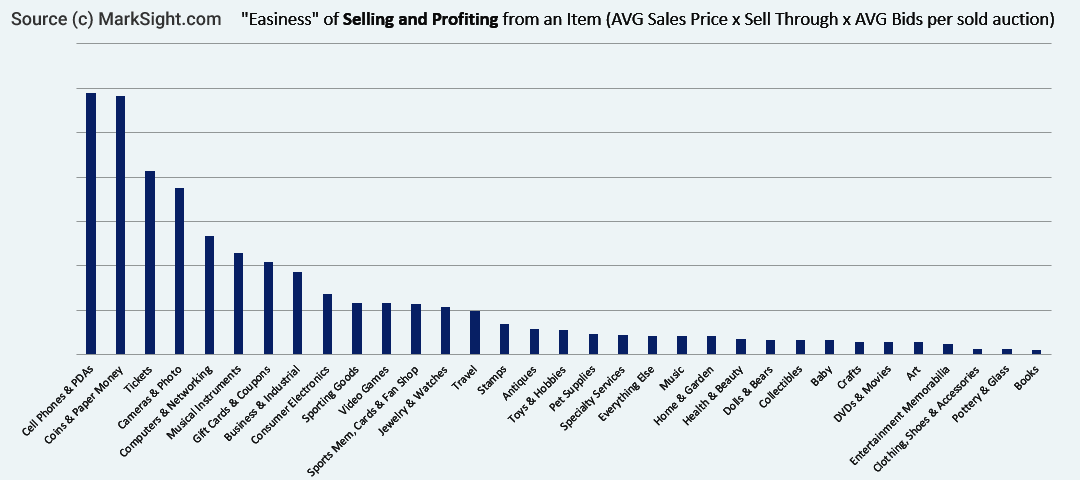 Easiest items to sell on eBay (comparative)
It's a shame to see that Books rank last. But it makes good sense in the end. Our data is, for the most part, complete. However, there's one piece missing from the puzzle, and that is human nature and other existing markets. We simply can't quantify that some libraries may be selling old inventory for $1 per book, and lots of people resell books online these days. So the takeaway here is, when studying the chart, please think about only your coming eBay experience of selling your item and potentially profiting. Your real profit will depend on how you got your item (for how much), and how quickly you'll sell it.
Now, books are probably an exception here, and the rest of the chart looks very close to reality. Again, if you choose to start an online business with eBay, researching in advance will put you way ahead of your competition and look around for a good buy such as thrift stores or garage sales.
How to use these insights to grow your eBay business
The most obvious way to use this information is to check the top ten list closely. Do some research on MarkSight or eBay directly, and look for specific niches that you have an easy way to get your hands on. Once you have the product on hand and at a low enough price, then you're on a good way to make a side income. It often helps to think about all the people you know and all the skills you have, and your current location - can these be used somehow to get an edge on the eBay platform? Statistics like the ones discussed in this article only go so far, and in the end, you still have to figure out the most difficult problems for yourself. It's a challenge, but a fun one. Happy selling everyone!
If you have questions, feel free to leave a comment below. If you found this useful, please share it with others!
Awesome gear for online sellers