Click Play and listen to this article
eBay introduced a new function to allow sellers to send offers to listing watchers. Many of us sellers have been waiting a long time for this because it's interesting to have new ways to connect with our buyers. Since eBay's early days, we were never allowed to even try contacting buyers (and many have tried). And now, with the new "offer to watchers" feature, we're finally able to do this, and all within the eBay platform. Check out the comments below for common pitfalls.
How to send an offer to listing watchers?
Follow these steps to send an offer to your listing watchers:

Open your Selling page and go to your Active listings
For each Fixed Price listing that has watchers, you have a button to "Send Offer"
On the Send Offer page, enter your offer price, which must be at least 5% less than your Fixed Price
You can fill in an optional note to the buyer
Click "Send offer to Buyer", your offer is valid for 48 hours
After sending your offer, the watcher has the option to accept the offer or just let it expire.
The following are screenshots that clarify the whole process. Once you understand how it works, it should go quickly for you, and you'll be sending offers to your listing watchers in no time.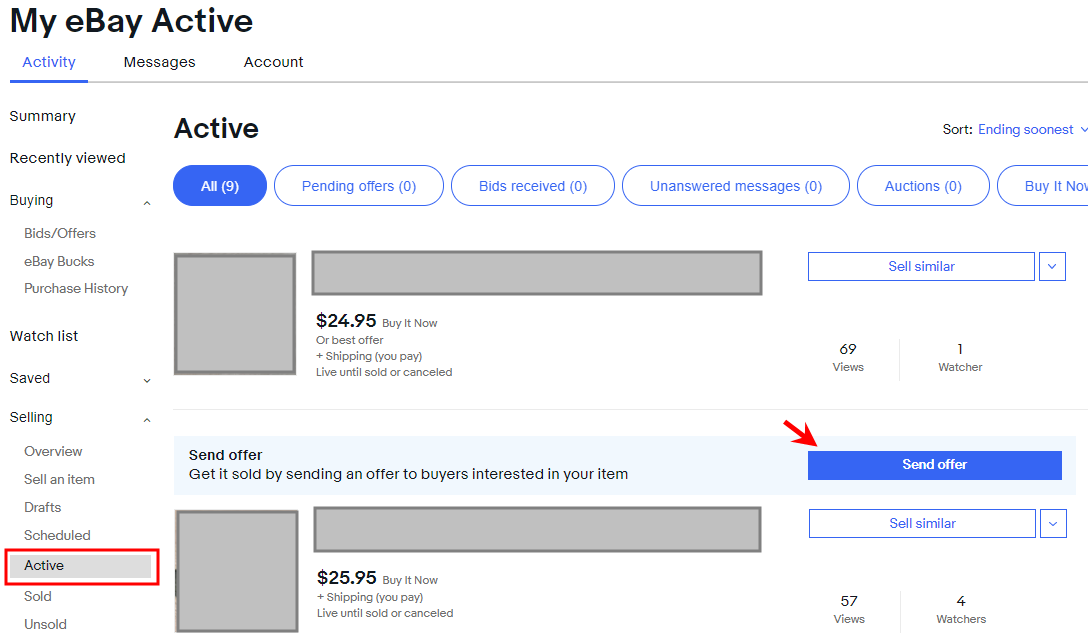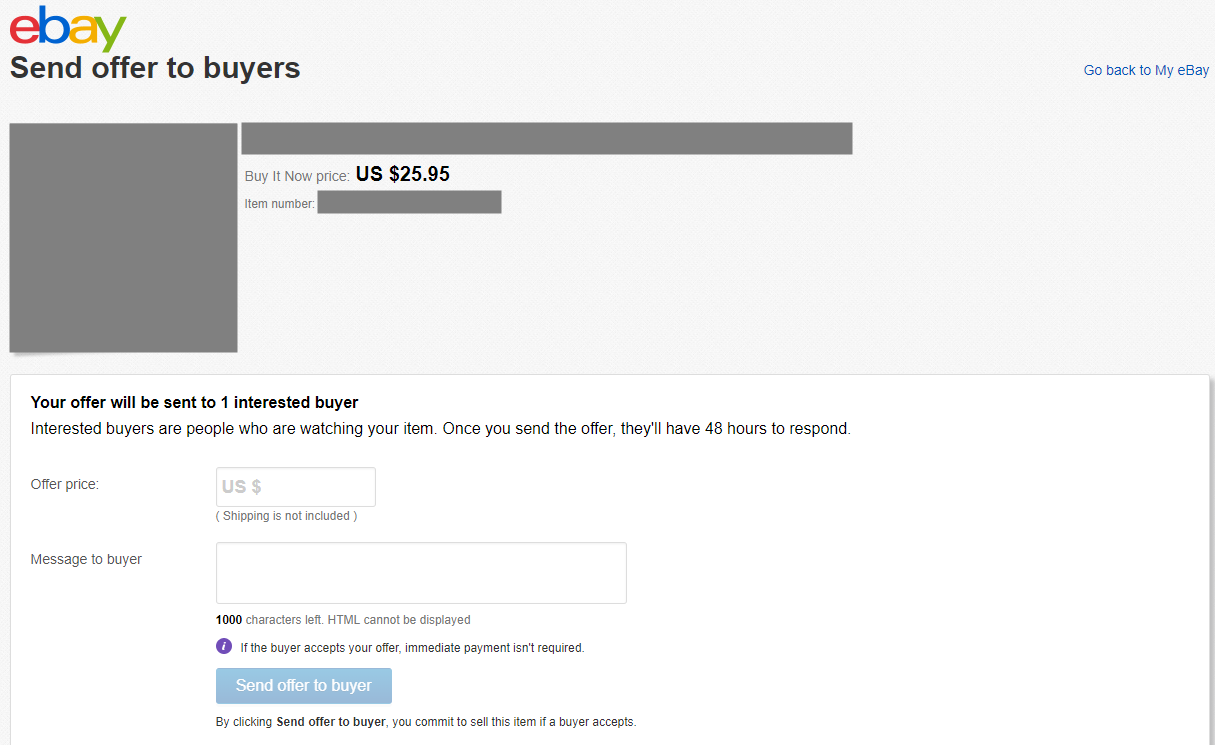 Rules for sending offers to your listing watchers
You cannot send offers for auctions, only for fixed price listings or buy it now listings. Also, you can't send more than one offer to the same watcher. This is to avoid sellers hassling potential buyers by resending too many offers. If your listing is not older than 10 days, then you'll have to wait. Only listings older than 10 days have this option.
The offer price you choose has to be a discount because it only makes sense this way. And you have to give at least 5% off your listing price.
Your offer can only be sent to at most 10 watchers at a time. Just like with Best Offers from buyers, your seller offer is binding and you cannot withdraw it - just keep this in mind.
Send offer to watchers link
The user interface is still not perfect and eBay continues to improve it. Many people complain that they simply don't get the button to send an offer, or they do have it but it's not shown for some listing. To get around this, you can use this shortcut offer to watchers URL below:
https://ofr.ebay.com/offerapp/sio/createOffer/XYZ
Just replace the XYZ with your item ID, and open the URL in your browser. If you're not logged in, eBay will first ask you to enter their system. If you entered a wrong ID, eBay will give you an "invalid item" warning. But if you did everything correctly, you should recognize your listing picture and title. You're all set!
How much of a discount should I offer?
The amount you offer is up to you to decide, but I like to offer a nice round number. For example, if I'm selling an item for $100, I would send an offer for $90, which is 10% less than the listing price. eBay requires that you offer at least a 5% discount, but in my experience, this is usually not very interesting to buyers.
Here's another trick you can use. You can slightly increase your price when you set up your listing. And when watchers come in, make them an offer where you remove the difference. eBayer sellers do this all the time now.
Read about how to make money on eBay for more tips like this.
Send offer to watchers message to use
This is where things start to get more interesting. Along with your offer, you can send your watchers a short message. Most eBayers just leave it blank, but I think that's a mistake. Remember, you're messaging the buyer for a reason - to close the sale. And looking at it from the buyer's perspective, only getting a number from you is kind of dry. So, write a note and you should have a better response.
When I write this message, I like to put in something that makes the offer stand out. Something like "A little discount for you ;)" can go a long way, and just these few words sold a lot of listings for me. Be creative and polite here because the watcher is getting an unexpected email now.
What happens if an interested buyer accepts my offer?
When the buyer accepts your offer, the next steps work the same as when your listing is sold. The buyer will make a payment like usual and you will be notified about the proceeds. In the email message, you will receive the shipping address, and you should ship the item quickly. Sometimes the buyer will respond to your offer message too, and they're always grateful for the discount.
Criticism about downward pressure on prices
Unfortunately, eBay has received some criticism about this feature. I think this is a big misunderstanding on the part of the seller community. First of all, you can only send an offer for an item that just isn't selling. And making a sale is better than not, that's how I see it. Making prices more negotiable does also stay with the original spirit of the platform, which rose to fame with online auctions, which are actually just one way to negotiate between buyers and sellers.
The downward pressure on prices comes from one thing, there is an abundance of just about any item you can think of. It is this abundance that lowers prices in the end, and not the ability for you or your competitors to make offers.
Conclusion
This should serve as a good guide for you to start making offers to watchers. You can use the offer pricing and messaging strategies discussed here to increase your sales on eBay. You won't be increasing your sales prices (the opposite), but this is a useful tool to have especially when eBay sales are down.
You still have the freedom to not use this functionality, but at least you can if you want to. Again, I think this is a great feature to have, and I'm sure I will use it for as long as it exists.