Digital products are a growing part of the economy, and eBay will allow you to sell many of them on the platform. You only have to meet the main requirement that you own it, and the intellectual property belongs to you. eBay has a Digital product policy
that outlines the guidelines, however, it doesn't answer all questions and we will try to cover the gaps here. A bit of a spoiler - selling digital products on eBay is allowed, but with some twists and turns to follow.
How do I list a digital product on eBay?
Use the category: Everything Else -> Information Products -> Other Information Products
In the Format field of the Selling Details, choose the new option "Classified Ad"
eBay will charge you $9.95 for this listing
The listing will last 30 days
You cannot use the Auction-Style or Fixed Price formats for digital products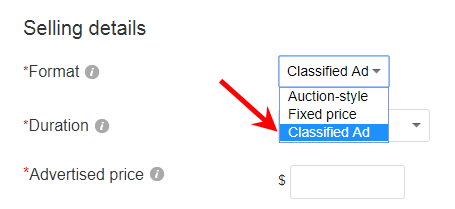 The biggest pain that you will have is with delivery. Unfortunately, eBay does not allow for digital delivery (such as email). It's important to realize the difference between a digital product and digital delivery. While digital products are allowed, delivering them digitally is not allowed. For example, if you want to sell an eBook, you will even have to include the following statement right in your description:
"I will send this eBook by postal mail. Sending it by email or by any other digital delivery method is not allowed and violates eBay policy."
As sellers, we would love to have the capability to automatically deliver the product upon payment. This is a normal step in streamlining your online business, and achieving passive income! So, we will have to wait until eBay changes this policy, but I wouldn't hold my breath on this one - it's been like this for many years.
eBay requirements for digital products
Please remember to include a statement in the description, that you legally own the product, and are authorized to resell it. Also, do not sell anything that can be used maliciously, infringes someone's privacy or can cause harm. Also, you have to be a verified PayPal user and local pickup is not allowed.
Breaking these requirements will result in all kinds of punitive action! You will forfeit your fees, and your listing will be deleted. You could even lose your privilege to sell on eBay altogether, depending on how serious the situation is. Take care that you don't take this route, and if you have the slightest concern, it's better not to list your item.
Examples of digital products allowed (and disallowed) on eBay
The list of definitely allowed products is surprisingly long. It includes things like eBay templates, websites, domain names, tickets, software product keys, virtual gaming items, software that you created, eBooks that you wrote. This is encouraging, and I hope it grows over time!
Disallowed content includes the following examples: PDF manuals that you did not write, copied music/movies/software. Notice that here the emphasis is on intellectual property. While you may own an original DVD movie, selling a copy of it that you burned on your computer is illegal, even outside eBay.
Why sell digital products
The absolute best kind of digital product to sell is one that you can also deliver electronically and automatically, without spending any time or effort. Major companies and services (think Netflix, Amazon Kindle, Apple App Store) rely on this model to make the big bucks. And so, it's no wonder that we, the little guys, also want to do the same. Just imagine having a product that self-delivers to your customer; yes we live in some beautiful times.
This business model is not allowed on eBay unfortunately. Given all the requirements and policies, I would recommend that you go with Amazon in case you're a writer. And if you create software then you're a lot better off selling it on your website. By the way, you can even use PayPal as your payment provider, which is ironic given that PayPal was until recently owned by eBay.
If you're into selling tangible products, another way to get an edge is to do your research. Look to sell items that have already proven demand. This is especially useful when you want to look for a new niche market to get into, but don't exactly know which one yet, and want to get ideas.
Steps to selling your digital product on eBay
Now that we know what the requirements and policies are, let's get down to business! Let's imagine that you're a web developer and you have a family friendly website template to sell. Your first step is to burn your code and template files onto a CD. Since we're working with digital products, it's important to now take your CD and try to open it on another computer. Make sure it opens fine and all files are readable by the drive. At this stage, it's a good idea to run it through an Anti-Virus checker. Just make sure you won't be sending a terrible surprise to your customers.
After this, you are for the most part back in the usual territory of selling a tangible product, because you've cleverly converted your digital product into a physical one. Just like with normal listings, take some nice photos of the CD and screenshots of the software running. Write a good informative description. Include the following words: "I legally own this product and all intellectual property because I wrote it, and am therefore authorized to sell it." I know it sounds corny, but eBay wants this. And lastly, at the end of your description write that you'll send it by Post-Mail because eBay does not allow digital delivery.
The following would be your step checklist to sell your digital product on eBay:
Burn your digital product (website template files) to a CD
Make sure this CD runs and opens on another computer
Check it with Anti-Virus software, make sure it's clean
Take photos of the CD, and screenshots of the website template
Write a good description of your product, including all the benefits of using it
Include these 2 statements in your description: "I legally own this product and all intellectual property because I wrote it, and am therefore authorized to sell it." and "I will send this website template by postal mail. Sending it by email or by any other digital delivery method is not allowed and violates eBay policy."
Create a new listing on eBay, and pick the category: Everything Else -> Information Products -> Other Information Products
In the Format field, pick "Classified Ad" - you'll only sell 1 at a time, there's no possibility to sell multiple items here
Enter your price and shipping details, pay the $9.95 to eBay upfront
Once the sale happens, ship the CD with tracking to the customer
Curiously, this also means if you sell your product for less than $9.95, then you're losing money. So, this only makes sense if your price is probably at least $20, and even here, your maximum profit is only $10.
How come some eBay sellers are breaking the digital delivery rules?
Below is a screenshot of an actual eBay seller out there. This seller is not only selling software that he or she does not own, but also provides this by the one method that's not allowed by eBay.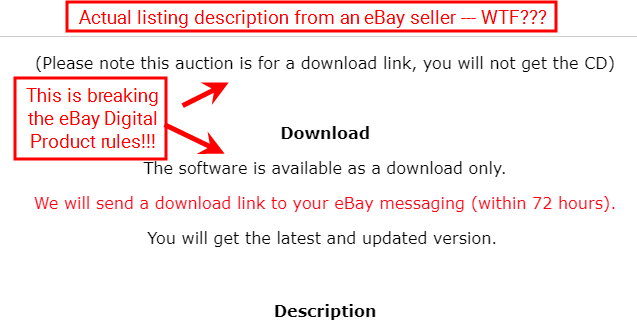 I find this to be the most frustrating part of selling on eBay. It seems like everywhere I look, someone else has some special "privilege"... From what I gather, these people have another agreement with eBay. But there's no way to know why eBay will allow some sellers to do big business like this, and others will be shut down. I just know for a fact that if I try to do the same thing, maybe I'll get away with it for a while, but not for long. Unless you don't care about your eBay seller status, please don't experiment like this.
Keep in mind that eBay will normally rule in favor of the buyer if they claim they never received the download link, or your software caused a computer crash. And without any tracking details backing you up, you're a sitting duck if you're only starting this business now (think sabotage from a competitor).
My main theory for why some are allowed is this: I remember that 15-18 years ago, eBay was much more liberal towards digital products and downloads. Not only the platform but the internet overall was still in the early stages of evolution. And I think that those sellers who started a digital product/delivery business back in those days are now the only ones allowed.
There's also a kind of inconsistency that exists in the eBay guidelines, which I also don't like. Let's take the "domain names", which are an allowed product. But there's no way to sell someone a domain name by writing it onto a CD! Impossible! It can only be transferred digitally, via a domain registrar. So how in the world can I sell a domain name on eBay and still use post mail? I think this means that if you happen to be selling a domain name, use another service. Otherwise you might transfer your domain and be left with no cash.
Other allowed categories for classified ads
The main category where you should place your digital product is Everything Else -> Information Products -> Other Information Products


The following is the full list of categories, which eBay allows to be used with Classified Ads:
Business & Industrial

Construction > Buildings, Modular & Pre-Fab
General Office > Trade Show Displays
Websites & Businesses for Sale

Specialty Services
Travel
Everything Else

eBay User Tools
Funeral & Cemetery
Information Products
Reward Points and Incentives Programs > Other
What about including a free CD in your usual listing?
The quick answer is "No", even this is not allowed on eBay. And when you think about it, it makes sense. As a seller, I would love to include some freebie in my listing, to make more sales, but that thing can't be a digital product, unfortunately. But as an idea for you, in case you're selling sunglasses, you can include a pouch - so, tangible freebie items are still allowed to boost your listing. Also, I would hate to have to compete with someone who's including free software packages with everything they sell.
Conclusion
This should provide you with a good overview of how to sell digital products on eBay, the policies to follow and what is possible. If you now feel discouraged, don't be! Instead, be creative, continue looking to find your way. Even if selling on eBay is not an option for you, there are countless other ways to sell digital products online. That is, provided that your intentions are good and you provide value to your customers.
Feel free to share this information with others who might be interested in selling online. If you have questions or tips, please use the comments section below. It would be especially interesting if you share actual experiences. If you happen to be one of the exceptional few who has a different agreement with eBay, I am very curious to hear how you did it!
Considering everything in this article, I expect eBay will change one day. There will be someone at eBay headquarters strong enough to stand up and make a clear set of rules which allow for digital delivery. The world and technology are moving so fast now. I foresee the digital economy will grow further until it cannot be ignored even by eBay leaders.
Awesome gear for online sellers