Back when I started my first semester in college, I spent roughly $500 on required textbooks alone. This was a lot of money for me (it still is), and I immediately started to look for a better way. The answer for me was buying the same books on Amazon and eBay as cheap as possible, normally second hand/used quality but still in good shape. Then I would turn around and sell the used books online.
How to sell used books on Amazon?
Sell your used book on Amazon by first finding your book in search results, and going into the book details. On the left side, you will usually see a section called "Have one to sell?". Click the button "Sell on Amazon", and follow the short instructions to list your book, and make sure to include your book condition. For reference, have a look at Amazon's selling FAQ, where it's mentioned that small sellers have "no monthly subscription fee. Instead, Individuals pay $0.99 per item sold plus other selling fees, which vary by category". Having no monthly fees is perfect for us!
I would use those books for the semester and resell them back online afterward. This often even resulted in a small profit. Most importantly, when I look back, this resulted in having the books for free at a minimum. And over 8 semesters, this is a nice saving. I hope that some college student out there will find this and save some money, and perhaps even make money at the same time.
The problem with buying books at the university bookstore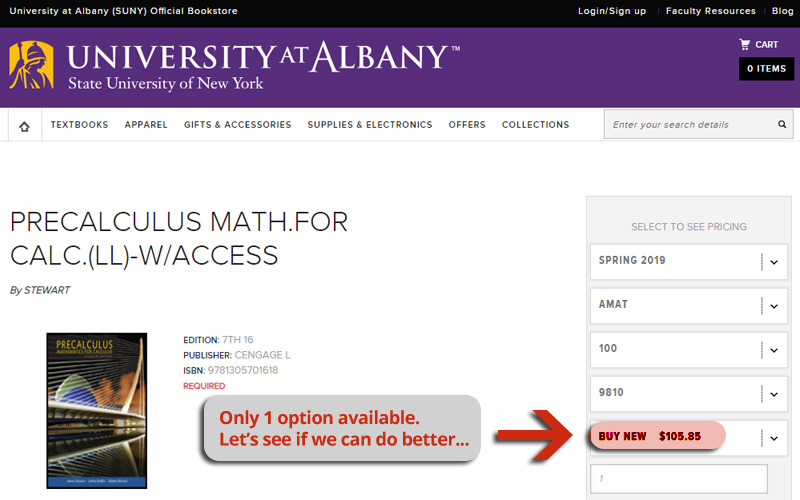 Above is a typical textbook that was required for one of my math courses.
The picture shows my actual University online book store. That's $105 for just one book! This was a good introduction for me to the "business" of higher education. My main issue here wasn't just the money, but I was already used to having pre-owned books in high school, and I kind of knew the books weren't that useful after the courses will end. The value just wasn't there. So, I started to research.
Online research, eBay and Amazon
I searched all over the place. At the time, eBay was bigger than Amazon but the problem there was the waiting period for an auction to end, and the buy-it-now listings tended to be more expensive than I'd like. Another thing was, I needed the guarantee to get the book. Amazon provided the best combination of all.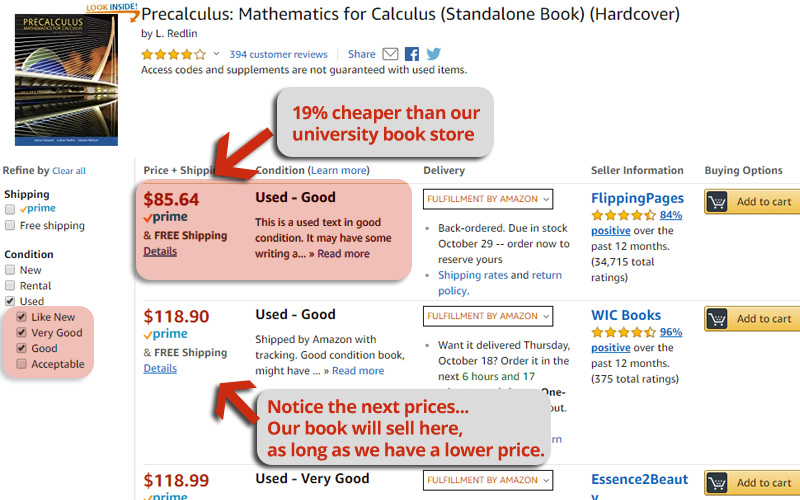 Pictured above is the same book on Amazon. The new book is twice as expensive as the University book store price. That's probably because the University has some special deal with the publishers. The more interesting part for me was the used price.
Notice how the used book is $20 cheaper than the new one! This was what I needed. Even if it had some writing or wrinkles, as long as I could do my homework and follow the course, I was fine. For the semester, I'd have to research only 5-6 books like this and find the best deals. This alone, gave me a roughly 20% discount on all of my books together.
Here's a tip for you, sometimes the University library carries the same books, so you can just take it out for free for the whole semester! I took out several computer science books like this, and I bet this is still true today.
What to do with textbooks when the semester ends?

I took good care of the books. If I saw some pencil writing, I'd erase it. If there was a tear, I'd glue the paper back in place. The next thing I did was register as a seller on Amazon, and use the link pictured below from Amazon's site to list one book at a time. Again, this wasn't a lot of work because I only had a handful of books, and this was a lot easier than creating eBay auctions.

Since Amazon charges a 15% fee on book sales, I raised my prices to cover just this fee. In a matter of weeks, they were all sold: mission accomplished! I did a little math on this at the time, and I pretty much broke even. This was not a bad thing, because all my friends were down $500...
Looking for profits
Here's the thing about turning this idea into a business. You as a student, are required to get the books! Think about it, by analogy you're forced to invest in a "startup". Now, what you do with this investment is up to you. You can squander it, or you can turn it into an opportunity.
In the next semesters, I tried many different things. Researching and selling on eBay, or changing prices slightly. The best approach for me was: raise the price by about 25%, and let the book sit a bit longer on Amazon. Often, when the cheapest used books were sold off, mine would be sold next. And actually, this happened a lot just before a semester would start. This whole system was nice, and I normally ended up with an extra $20-$30 after selling all the books from the previous semester, a nice $5 - $6 profit per book.
The math here is easy to follow. If we buy the book pictured above as a used item from Amazon, this costs $85.64 (assuming free shipping). When it's your time to resell the book, put it up for $85.64 x 1.25 = $107.05. I would round it to a nice $109, and offer free shipping. Notice how this price of $109 would still be cheaper than all the other used book options on Amazon? This means when the current $85 book is sold, you will be next in line, and you'll surely sell. There wasn't even one book that I put up online like this, that did not eventually sell. Let's say you sell the book for $109, and ship it out on your own, which will probably cost about $4, what's your profit? Amazon will take 15%, so you end up with: $109 - ($16.35 Amazon fee) - $4 (shipping) = $88.65. That's a $3 profit - not much but hey, it proves the system works!
In case you're wondering why someone would buy a used book for $109 if it's available for $105 in my University book store, there are 2 real-life scenarios that can happen. First, the college book store can run out of the book - this happened to me a few times, and then the waiting period is like 2 weeks until they get more. The other thing that can happen is, your University doesn't have the special discounted price, and the Amazon pre-owned option is now your least expensive option.
By the way, this reminds me of another tip: check your local college book store for discounts on TI-84 calculators! They tend to be cheaper than the same options on Amazon or eBay, and so you can play a little arbitrage. But you didn't hear this from me ;)
Flipping used books as a business
Being a nerd, I created a web application for myself which would track the hottest selling items on eBay. What was important for me was, seeing the actual items, and also the keywords in the titles. This was how the MarkSight project was born. I used this information to try and seek out the same books in libraries (they normally have a $1 book section), book store sales and even back on Amazon. Looking back now, this was a great idea and is still valid even today. Even with today's technologies, I wouldn't bet on textbooks going away any time soon.
For example, check out the same math book here on eBay. Notice how it can sell for anything between $50 and $125, that's a super-wide margin worth taking advantage of. These tips will help you to sell more used books on eBay. Use the old proven principle of buy low, sell high and you will do better than your friends. Once you start to make some book sales on Amazon, tell your friends that you'll pay them more than the book store, and you'll get additional inventory to resell.
The eBay results page shows there are a lot of sales, and the prices vary a lot! For me, this means that a comfortable 10% - 20% margin is always possible. Check out a couple of screenshots of the MarkSight eBay research application below, which take this principle even further by studying the market.
Item/product research
The top-selling list in the research application has a huge list of over 10,000 items that are currently selling like hotcakes. Every item has at least 75% sell-through, which is crazy. Best of all, the Books category has many items that meet these criteria. This is a gold mine of information that isn't available anywhere else online.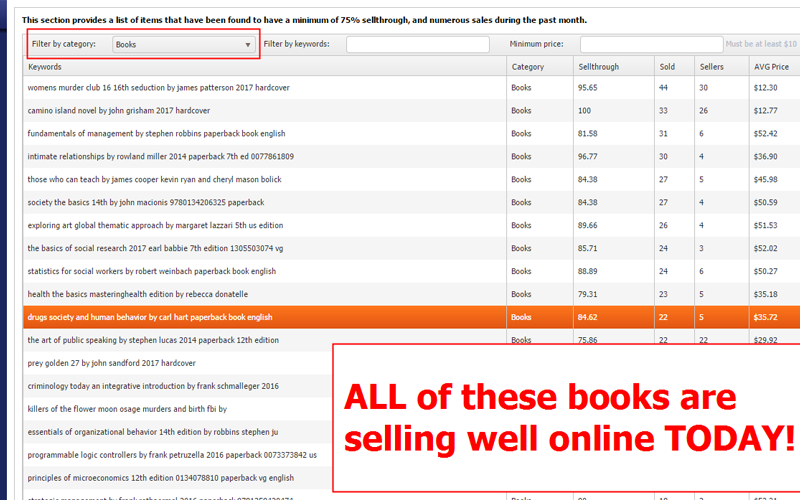 Keywords that help your eBay listings get more exposure. The trick to follow is easy and goes like this: work backward from most expensive to least expensive price groups. Each group will have its own set of keywords as in the picture below. Pick out the keywords that describe your product or item, and make sure to include those words in your title. For example, as in the screenshot below, including the edition will increase your final sales price. You'd be amazed how far this can take your listing!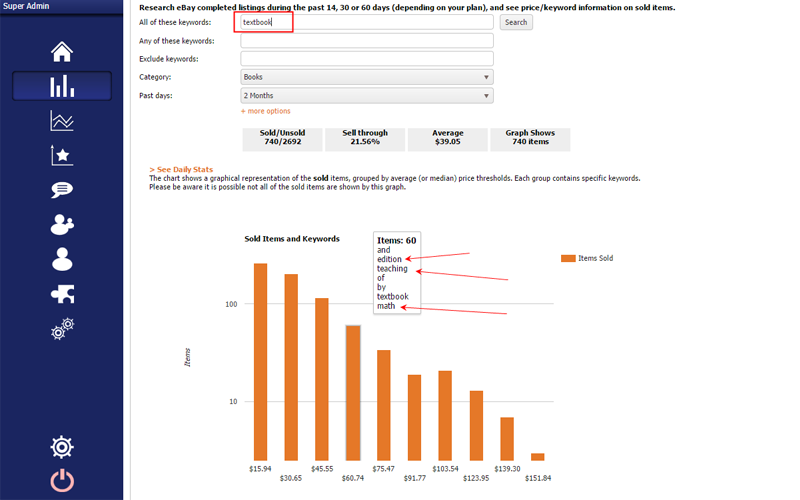 Use this knowledge to flip books online for side income
College book stores are there to make money from you. It's important you realize that you have other options, which truly enable you to get the same books at such a price, that you can at least break even. And in today's world, if you manage this then you'll not only save money but will also be on your way to financial success. The lessons learned from spending wisely, and also selling like a pro will be life long. Strangely, they don't teach you these principles in higher education.