Dropshipping is a very lucrative business model. There have been many people making good incomes with it, and it's definitely a growing topic. For those unfamiliar with it, dropshipping is quite simply when you sell a product without ever touching it yourself. You act as the middleman between the supplier and buyer (explained on Wikipedia).
Let's figure out how we can use it within the eBay marketplace.
Some forms on dropshipping are not allowed on eBay at all (covered below).
But even with these limitations, there's still plenty of room to do things the right way.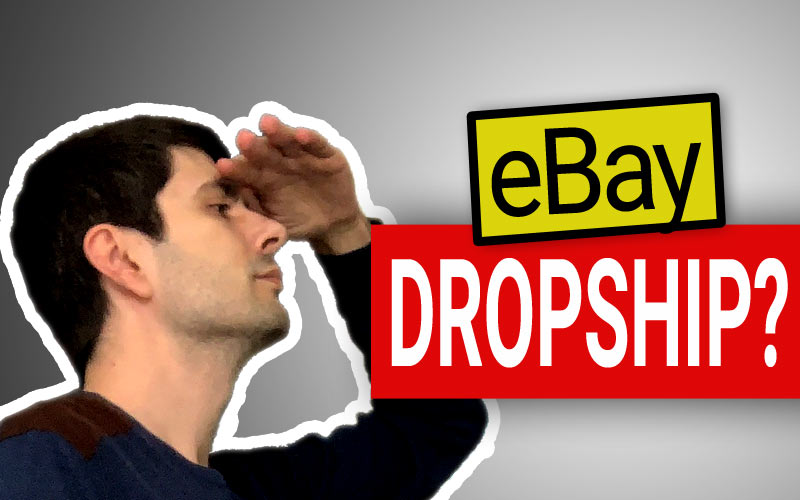 Is Drop Shipping Allowed on eBay?
Dropshipping is allowed on eBay as long as you source the products from a supplier, manufacturer or wholesaler before you sell those items on the eBay platform. Before 2019, eBay used to allow all kinds of drop shipping. But since the last update to their rules, most of the "quick" turnaround schemes have been disallowed including online retail arbitrage.
| | | |
| --- | --- | --- |
| Type of Dropshipping | Example | Allowed |
| Online retailer | Amazon, Walmart website | No |
| Manufacturer | Local Solar Panel Factory, Toy Factory in China, etc | Yes |
| Wholesaler | Sam's Club, Costco, etc | Yes |
| Brick and mortar retailer | Walmart store near you | Yes |
eBay Dropshipping Policy
You can find the eBay dropshipping policy here.
But be warned, the wording is confusing and definitely inconsistent!
For example, at the top, it says: "Drop shipping, where you fulfill orders directly from a wholesale supplier, is allowed on eBay."
Perfect - right?
No. Because then they write:
"...listing an item on eBay and then purchasing the item from another retailer or marketplace that ships directly to your customer is not allowed on eBay."
Wait a minute!
Did eBay first say you can dropship and then say you can't? Yes and no.
You are allowed to dropship on eBay - as long as you are not sending the product from another marketplace (let's say an eBay competitor like Amazon), and you also have some kind of partnership with your supplier.
I think eBay is doing this in an effort to protect its business and avoid direct competition with marketplaces it cannot beat.
How to Dropship on eBay from China?
The easiest way to dropship on eBay from China is to contact Aliexpress or Alibaba sellers and ask them for a partnership. These days, you can even do a search on Aliexpress for the keyword "dropship" and you'll get a list of Chinese candidates to work with. Remember, your goal here is to find a good dropshipping partner, and not to bluntly buy and forward Aliexpress products after making eBay sales.
If you choose this route, make sure the product is good, and the supplier won't be including any sales materials or invoice documents in the shipments. Your customers should only be aware of you and no one else in the transaction. Clearly state where you are shipping from in your eBay listing, and the estimated shipping times. This is super important to do because you don't want to mislead your buyers, and the last thing you want is customers complaining about your shipping times.
There is a fine line to walk here so watch out!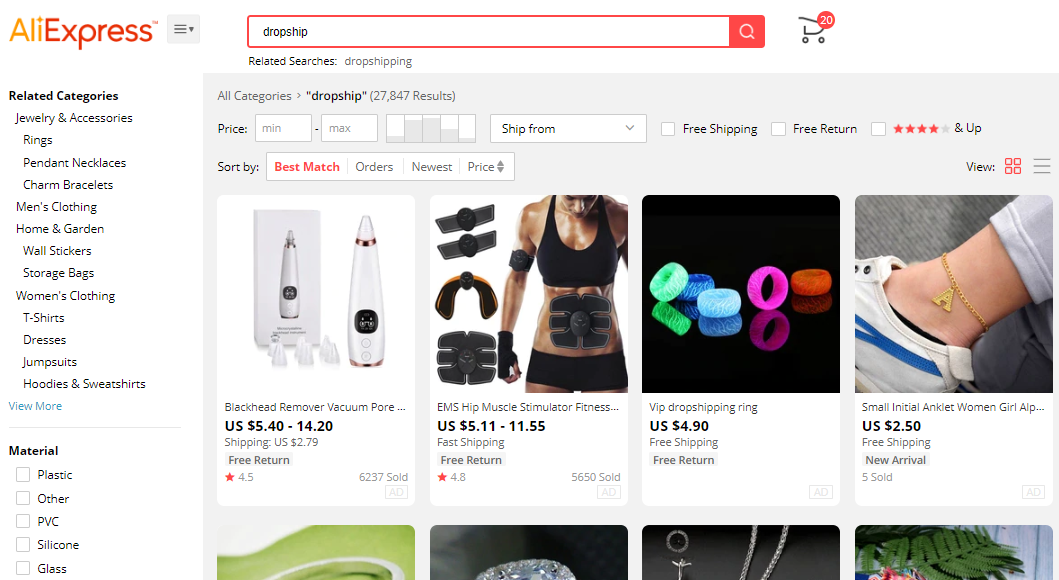 Dropship Search Results on Aliexpress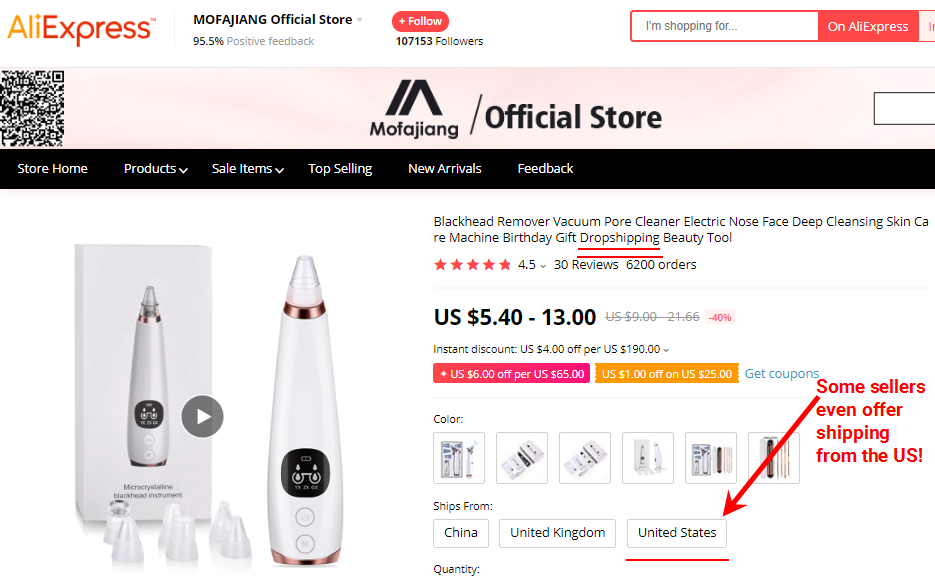 an Aliexpress Seller Offering Dropshipping as a Service
How Does eBay Know Who to Suspend for Breaking the Dropshipping Policy?
The biggest clue eBay gets is the tracking number and information. Basically, you're almost forced to provide it as proof of shipment - every eBay seller knows this. What many don't know is, eBay will surely check the tracking activity too! And if they notice the item was shipped from a place that's not even close to your address, they will watch your activity closer.
Whatever you do, in case eBay contacts you with questions - never mention an online marketplace (like Aliexpress). Instead, tell them about your great fulfillment partner overseas and how well they handle shipping work and manufacturing on your behalf.
Why? Remember the eBay dropshipping policy! You are not allowed to do online arbitrage (at least not directly), and too many people completely disrespect this rule.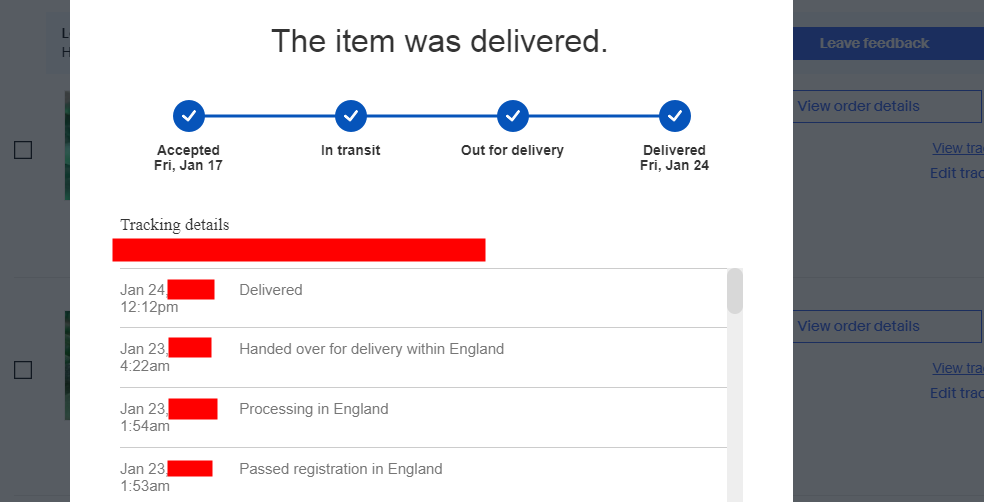 eBay Tracking History for One of Our Shipped Items
How to Drop Ship on eBay from Amazon?
eBay does not allow to dropship directly from Amazon because the end customer does not like to realize they've just lost money. Imagine if you bought something on eBay, and later receive an Amazon package instead, which will even show the actual product price to be $20 cheaper than what the customer paid! Most people would be upset because they are being made fools of, for not price shopping in advance.
But still, what do you do in case you discover an opportunity with Amazon-to-eBay arbitrage? You have to buy up the product first and have it shipped to yourself or to a fulfilment center. Either way, it's not true dropshipping anymore and you're doing normal business again, which is not breaking any eBay rules.
Two points are important here: please don't ship items to eBay buyers directly from Amazon because eBay will know you did this and will almost certainly suspend your account (unless you are the same seller on the Amazon platform and the final price is also the same, which is probably not true in most cases).
And, if you think actually finding a product where you can make a profit like this exists, good luck finding one.
How to Dropship on eBay from Walmart?
eBay will not allow you to dropship from Walmart directly. Simple as that. However, Walmart frequently has clearance sales - which are great opportunities for all eBay sellers. Instead of dropshipping, please consider investing a bit of money into good merchandise and resell it later.
Hint: Seasonal items are perfect for this.
Now, because you will own the products outright, eBay will not have any complaints for you. Just don't lose the sales check, because that is your ultimate proof of legal product ownership.
Is Dropshipping on eBay Worth It?
Dropshipping on eBay is still worth it for the simple reason that there are many sellers doing it successfully.
Since dropshipping is really just a method of product delivery, the next question should be:

Can I find a good product and fulfillment partner and still make a profit with Dropshipping?
The competition on the internet is extremely high with the dropshipping business model. If you are looking in all the same places as everyone else, then you will not succeed - unless you already have an edge. For example, if you already have a large following or your copywriting skills are exceptional, then you have a competitive edge. However, if you are like most people, you will have better chances by looking into places where most are not, and that is why we offer our own eBay research tools.
What About Specialized Dropshipping Platforms Like Oberlo?
From my research, the products offered are actually not very interesting and require considerable marketing efforts. There's a reason suppliers place products on such platforms! Because while they can manufacture and ship them, they don't have the resources to push these products to consumers.
You can still try it, but I'd be surprised if you are able to make a profit. If you have experience with this, please share your thoughts in the comments below.
Don't Forget that Dropshipping has Risks
A lot of people get into a business thinking it has no risks. And Dropshipping is far from safe practice (which is why eBay watches it closely), especially if you're just starting out. Your weakest link is the supplier - they can fail you in so many ways...
Think late deliveries, wrong products going to wrong addresses. Personally, I am meticulous when it comes to my eBay shipments and am proud to say I never made a mistake. And putting this small task into someone else's hands does feel awkward.
The other major way a supplier can fail you is with poor product quality. That's why you absolutely must get a product sample in advance, to see what your customers will get.
If you manage to overcome the above two challenges, then congratulations - you're probably in the top 5% of dropshippers in terms of quality!
How to Find Good Dropshipping Products for eBay
We offer research tools to help eBay sellers discover all kinds of product ideas. Have a look at our list of niche product ideas, and you will get a feel for what you can do. The rest is really up to you, which is the more difficult part of the journey. Plenty of people have made a fortune with the worst products, and plenty more earned nothing with good product ideas - success is all in the execution!
To this day, one of my favorite dropshipping product ideas for eBay is binoculars. There are so many cool options on Aliexpress for them, and with the right marketing and branding, I can imagine the product doing very well.
I hope you found this article useful and feel free to share it with others!