Blocking certain eBay users can be a very simple way to save your sanity as a seller. There are several ways to do this and we will cover all of the possibilities in the article below. This is most useful if you want to avoid dealing with a particular set of buyers in the future.
We will cover how to block users and specific geographies in your account settings, and also in your listing setup.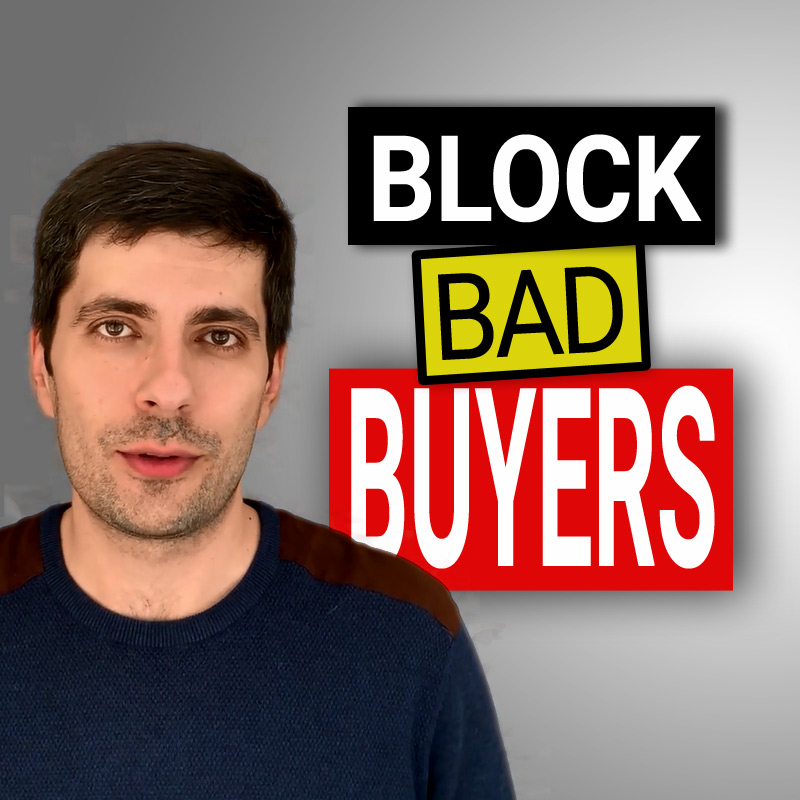 How to Block eBay Buyers?
You can block specific eBay buyers by following these steps:
Go to the bidder block page on eBay. Log in if you have to.
Enter the member's user Id in the text area and click "Submit".
You're allowed to enter up to 5,000 buyers - just separate them by a comma.
If you misspelled a user Id, there will be a warning like "

The following user(s) were not valid and therefore not added to your list

". So you have an opportunity to correct your list.
Block Specific eBay Buyers, Step by Step
Below is a set of screenshots showing you the process of blocking a specific eBay user from interacting with our listings in any way. If you had a poor interaction with a buyer, consider adding them to your list and avoid future confrontations. This is especially true since buyers realize that eBay will usually side with them regardless of their behavior (as frustrating as that is)!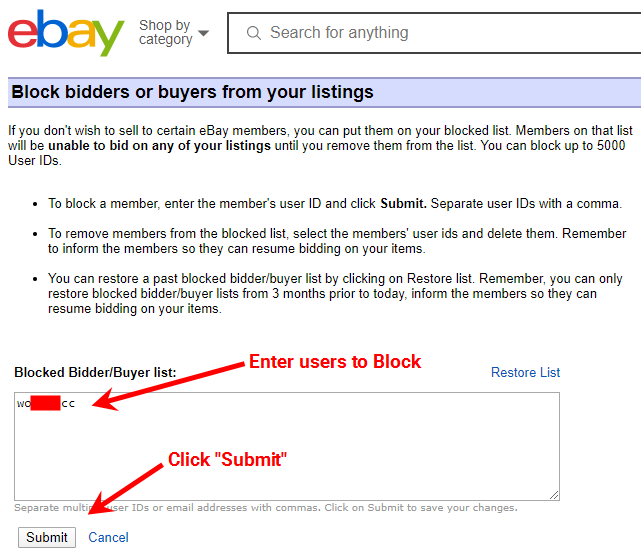 eBay Block Bidders Page

eBay Confirmation Page After Saving Your Blocked Bidder List
How to Restore Your Blocked eBay Buyer List
The developers at eBay were kind enough to create a restore list feature, just in case you accidentally delete your blocked list or somehow corrupted it. Go to the bidder block page on eBay and click on the "Restore List" link located just above the text area. You should then see a list of previously saved blocked bidder lists. Simply check the radio button for the list you want to revert to, and click "Restore". Unfortunately, the list history only goes back 3 months, so if your last version is older than that, then you will not be able to recover it.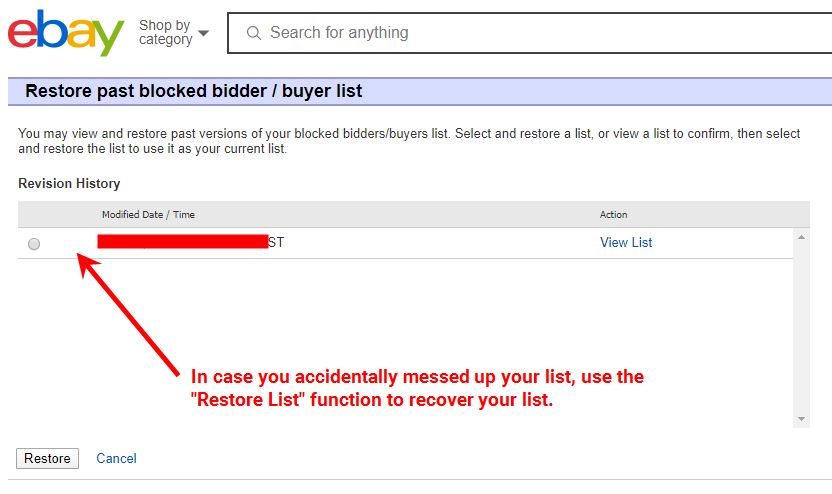 eBay Restore Past Blocked Bidder Page
How to Block International eBay Buyers by Country or Continent
eBay allows you to configure your shipping preferences in such a way that you will never have to send a package to a certain continent or country.
Go to the Manage shipping settings page, and have a look at the "Exclude shipping locations" section.
Once you go there, you can define which continents you do not want to ship to, or which countries to avoid. You should consider disabling shipments to some countries because:
Some are known to have very high shipping costs
Some countries have a low chance of actual delivery (packages tend to get lost)
Some countries have been demonstrated to have a lot of scammers
We will avoid printing actual country names here, but you can reference the eBay ShipCover page, where eBay lists countries they refuse to cover with shipping insurance. Just go to the section called "Are there countries where ShipCover will not insure shipments?", and you'll see a good list to start.
Why reference ShipCover? Well, ShipCover is powered by eBay, and if they avoid some places, maybe you should too.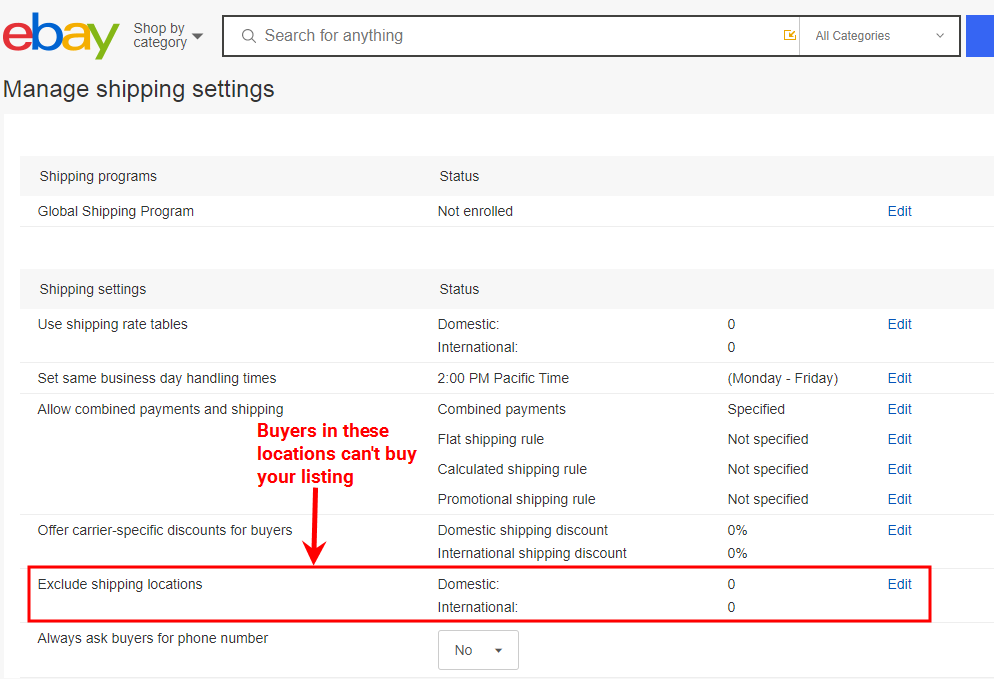 eBay Seller Shipping Settings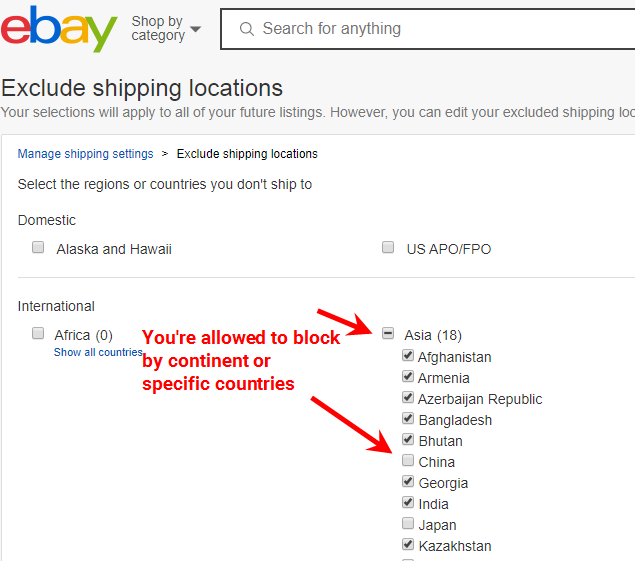 eBay Allows to Exclude International Locations
How to Block Domestic eBay Buyers
While eBay made a lot of effort to allow you to configure international shipping options, domestic options are only limited to three capabilities:
Exclude Alaska and Hawaii
Exclude US APO/FPO
Exclude US Protectorates
You can't configure which states you want to avoid, but this is actually a harmful feature to have, and so it's not available. In general, shipping anywhere within the United States is considered safe on eBay. The above options are there just to avoid expensive shipping costs, especially for bulky items.
When is it Time to Block Users?
You should block specific users only after resolving the issue with them. This will show eBay that you're willing to work out all issues first and foremost. Please remember, blocking a user in the middle of a dispute will not stop the dispute. If there's no issue yet, and the potential buyer is just behaving strangely, then you can block them right away.
The international locations covered above should always be blocked in your shipping settings, regardless of your seller level. And you should consider selling internationally only after you've had some success domestically. In other words, trying to sell overseas should not be used as a way to drive your sales, only to grow them.
Listing Shipping Details
Sometimes, you may want to disable international shipping only on a special listing you have. There's no need to change your account settings for that, and you can use set your preferences once for your listing. Below is a screenshot showing an example setup where the listing will be available domestically, and not available internationally.
This is also your opportunity to configure free shipping or shipping costs. Personally, I like to have free shipping whenever possible, because buyers tend to appreciate this option even if comparing to another listing with the same price. Yep, free shipping still sells!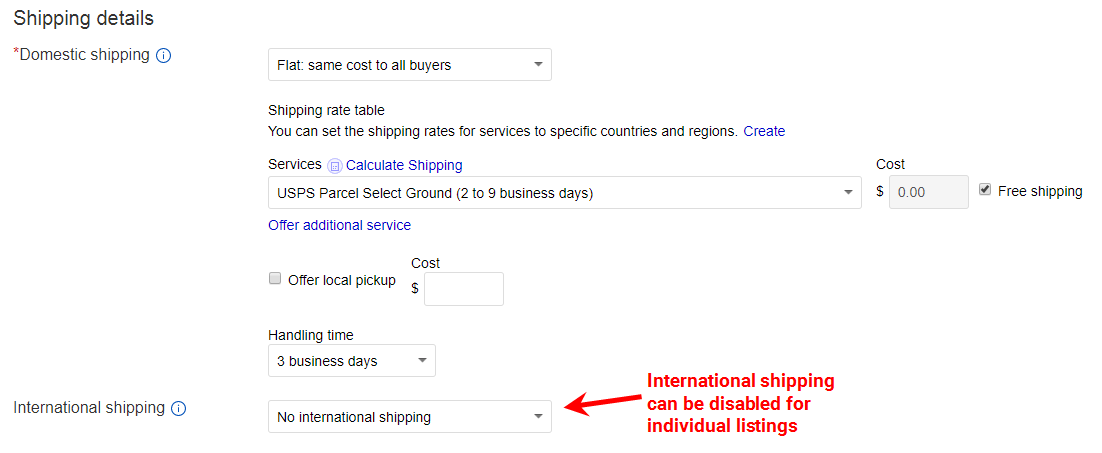 eBay Listing Shipping Details Section
Is Blocking eBay Buyers Worth It?
Blocking users you do not want to deal with again is absolutely worth the effort for two reasons: there's a certain degree of satisfaction knowing you won't have to deal with a particular buyer again, and also avoiding bad selling experiences before they happen.

It should be noted that new sellers are especially susceptible to predatory buyers, and should stay away from international business in the beginning. With that being said, after you have some positive feedback behind you, adding international sales is definitely a boost to sales. Stay safe and good fortunes to you!
Awesome gear for online sellers